AQUA-WHAT? - Aquaponics
Shaking up the way we grow food.
Soil-less farming – simply put, we convert fish waste into plant food.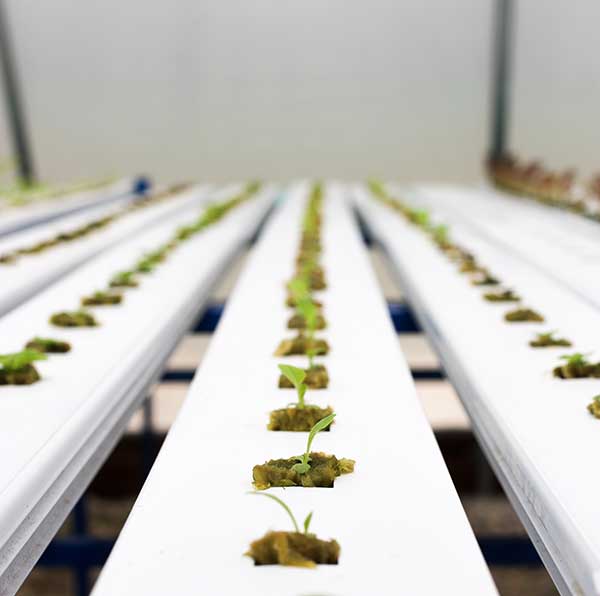 Aquaponics combines raising aquatic animals, such as fish, with hydroponics where you grow plants without soil. Our live fish tanks yield fish excrement water that is filtered and converted into nitrogen-rich food and pumped into floating plant-beds.
The fish, naturally live in the water, eating, and creating waste, which creates a colony of microbes that enable produce to grow — converting ammonia and nitrite into nitrate. This process enables food to grow, maximizing nutrients, and resulting in a higher quality product.
Aquaponics allows us to grow all-natural vegetables without the use of  GMO's, pesticides, and synthetic fertilizers.
We guarantee, we'll have you hooked on fresh food in no time!
Benefits of Aquaponic Farming
FOOD SAFETY
No dirt = No E. Coli
NO PESTICIDES
Vegetables are grown naturally, without pesticides, herbicides, or chemical fertilizers.
CLEAN FOOD
Fish are raised in clean water and are never exposed to antibiotics, growth hormones, or pollutants. Vegetables are grown without soil using clear flow aquaponics systems.
PREMIUM QUALITY
Our controlled environment produces all natural, top quality food.
WATER FRIENDLY
No soil is used in growing, which dramatically reduces the washing required.
YEAR-ROUND GROWING
No waiting for products to be in season. Our products are available 365 days a year.
SUPPORT LOCAL AGRICULTURE
Greatly decrease the distance your food has to travel from source to consumer.
Here at Reparation Earth, we are making aquaponics the future of food security, by shaking up the way we grow, distribute, and ultimately eat food.